Renal Function in Highly Sensitized Patients 1 Year After Desensitization With Imlifidase Prior to DD Kidney Tx (ConfIdeS)
Disclaimer
The following information about the trial known as "ConfIdeS" with identifier NCT04935177 is aimed at US residents only and does not apply to other geographies. The information is taken directly from the publicly available website ClinicalTrials.gov and has not been edited.
Trial identifier
NCT04935177
Condition
Kidney Transplantation in Highly Sensitized Patients
Official title
An Open-label, Controlled, Randomized Phase 3 Trial Evaluating 12-month Kidney Function in Highly Sensitized (cPRA ≥99.9%) Kidney Tx Patients With Positive XM Against a Deceased Donor, Comparing Desensitization Using Imlifidase With SoC
Location

Center

Status

United States, Alabama

University of Alabama at Birmingham (UAB) Hospital
Birmingham, Alabama, United States, 35249


Recruiting

United States, California

Keck Hospital of University of Southern California (USC)
Los Angeles, California, United States, 90033


Recruiting

United States, California

Cedars-Sinai Medical Center
Los Angeles, California, United States, 90048


Recruiting

United States, District of Columbia

Georgetown Transplant Institute
Washington, District of Columbia, United States, 20007


Recruiting

United States, Illinois

Northwestern University
Chicago, Illinois, United States, 60611


Recruiting

United States, Maryland

John Hopkins Hospital
Baltimore, Maryland, United States, 21287


Recruiting

United States, Missouri

Washington University School of Medicine
Saint Louis, Missouri, United States, 63110


Recruiting

United States, New Jersey

Saint Barnabas Medical Center
Livingston, New Jersey, United States, 07039


Recruiting

United States, New York

New York University (NYU) Langone Transplant Institute
New York, New York, United States, 10016


Recruiting

United States, New York

Columbia University
New York, New York, United States, 10032


Recruiting

United States, Pennsylvania

Hospital of the University of Pennsylvania, Penn Medicine
Philadelphia, Pennsylvania, United States, 19104


Recruiting

United States, Texas

Houston Methodist Hospital
Houston, Texas, United States, 77030


Recruiting

United States, Texas

Methodist Hospital Specialty and Transplant
San Antonio, Texas, United States, 78229


Recruiting



Inclusion Criteria
Signed Informed Consent obtained before any trial-related procedures
Male or female age 18-70 years at the time of screening
Chronic kidney disease (CKD) stage 5, highly sensitized as evaluated by standard selection criteria,and active on the OPTN waiting list for a DD kidney transplant
Original calculated panel reactive antibody (cPRA) ≥99.9%
Virtual crossmatch (vXM), predictive of a positive crossmatch to an available deceased donor (DD)
Willingness and ability to comply with the protocol
Willingness to participate in the planned 4-year extension trial
Exclusion Criteria
High dose IVIg (2 g/kg) treatment within 28 days prior to imlifidase treatment
Previous treatment with imlifidase
Breast feeding or pregnancy
Women of child-bearing potential not willing or able to practice FDA-approved forms of contraception, or abstinence. Two medically acceptable methods of highly effective contraception must be used for the duration of the study (e.g. oral, transdermal, intravaginal, injectable or implantable contraceptive; intrauterine device; intrauterine hormone-releasing system; vasectomized partner; bilateral tubal occlusion; or double barrier method). For a woman to be considered postmenopausal this ascertainment must be made according to medical records and clinical history and may be aided by measurement of elevated postmenopausal serum gonadotropin levels (FSH).
ABO blood group incompatible transplantations (A2 or A2B kidneys will not be accepted for B recipients)
Positive serology for human immunodeficiency virus (HIV)
Clinical signs of hepatitis B virus (HBV) or hepatitis C virus (HCV) infections
Clinical signs of cytomegalovirus (CMV) or Epstein-Barr virus (EBV) infections
Positive test for severe acute respiratory syndrome coronavirus-2 (SARS-CoV-2) (according to local hospital routines)
Active tuberculosis
Severe other conditions requiring treatment and close monitoring, e.g. cardiac failure ≥grade 4 (New York Heart Association), unstable coronary disease or oxygen dependent chronic obstructive pulmonary disease (COPD)
Any condition that in the view of the Investigator precludes transplantation
History of a proven hypercoagulable condition
Present or history of thrombotic thrombocytopenic purpura (TTP), or known familial history of TTP
Intake of investigational drugs within 5 half-lives of the drug or 3 months, whichever is the longest
Contemporaneous participation in a medical device study
Known mental incapacity or language barriers precluding adequate understanding of the Informed Consent information and the trial activities
Inability by the judgement of the investigator to participate in the trial for any other reason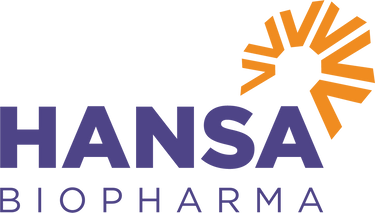 ©2023 Hansa Biopharma. Hansa Biopharma, the beacon logo, and IDEFIRIX are trademarks of Hansa Biopharma AB, Lund, Sweden. All rights reserved.
Privacy matters
When we collect your personal information, we always inform you of your rights and make it easy for you to exercise them. Where possible, we also let you manage your preferences about how much information you choose to share with us, or our partners.